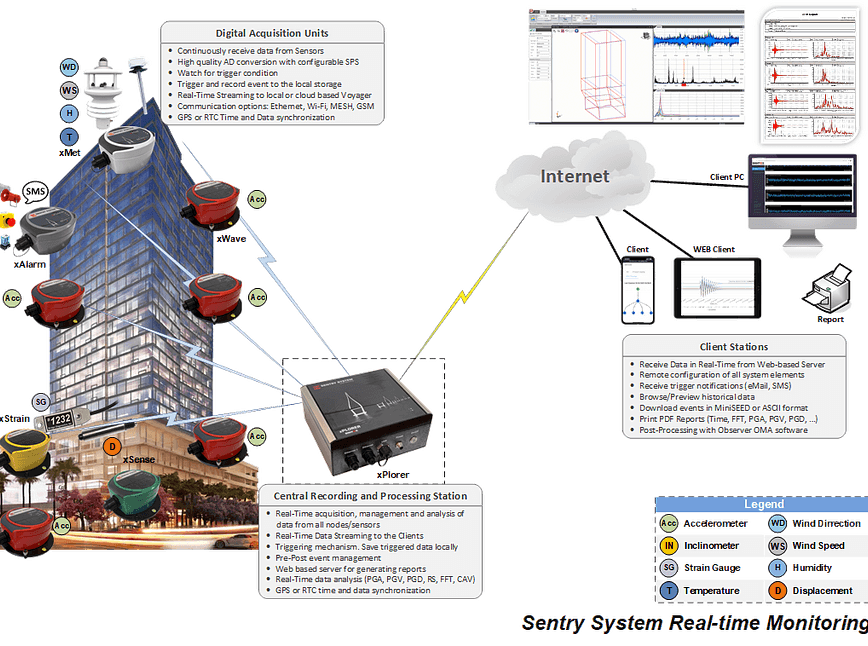 Overview
When a natural or man-made event takes place and potential structural damage is a possibility, how much does it impact you as a building owner or manager?
In a city like San Francisco, with about 8.7 million square feet of leasable commercial space, one day of business interruption can cost about $860,000 of lost rental income. This doesn't include the added costs to the businesses that had to close, the manufacturing processes that had to stop or the people that had to be relocated.
Instead of waiting days if not weeks for a complete structural analysis following an event, imagine getting the information instantly, in real-time.
Digitex offers a building monitoring system that arms you and your Engineer on Record (EOR) with instant information and analysis about your building. We are the only providers of real-time building monitoring system solutions. Our building monitoring system:
- Provides instant notification when one of your building thresholds is exceeded and the system is triggered
- Immediately gives your EOR the vital data and analysis that helps identify potential structural damage
- Based on the amount of sensors/ instrumentation, can instantaneously help identify damage location
- Records pre-, during and post event data for additional analysis by your EOR
- Broadcasts data and analysis both locally and remotely (you can view the status of your building from your laptop located anywhere around the world)
- Can easily tie into existing sensors/instrumentation
- Can be installed in a matter of days
...and when compared to what it normally costs to supply basic cleaning and paper supplies for your building, the Digitex solution typically costs less per square foot!