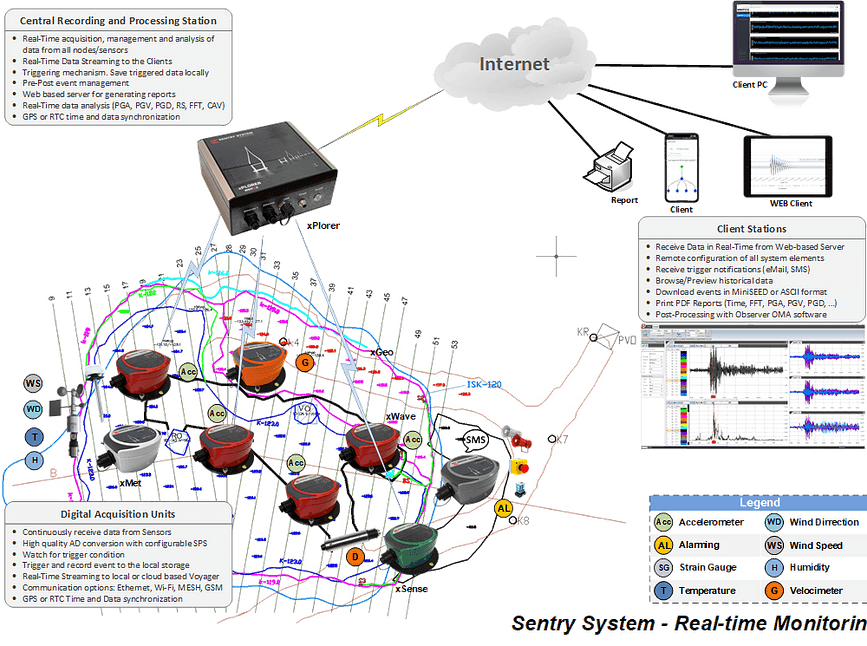 Overview
Whether you are blasting on a construction project, in a mine or a quarry, you are likely feeling the effects of increased public and regulatory pressure. These pressures make it more difficult to maintain schedules and keep production at acceptable levels; the one thing you cannot tolerate is an interruption of the
blasting program.
Blasting is common in the mining industry to remove rock overburden so that the exposed material can be mechanically excavated. The ground vibrations and air blast produced by blasting are often felt by residents surrounding the mines. There has been a trend for regulatory authorities, especially those concerned with the
environment, to impose low limits on blast vibration levels in response to community pressure, based on human perception and response to vibration.
Structural Health Monitoring of Mines is typically performed to either improve blasting efficiency, Near-Field Monitoring, or to monitor for compliance purposes. That is why you need a structural monitoring system that is easy to operate and reliable during a long period in hazardous conditions.